We are starting a new taichi 10-week program bilingual (Spanish/English) with teacher Diana Lara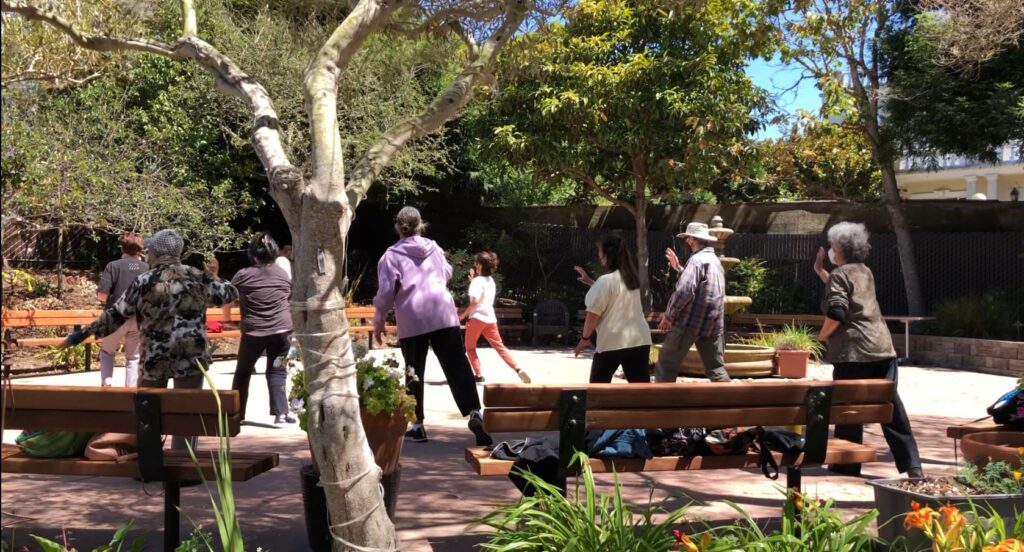 Garden at On Lok 30th Street senior Center
Tai chi para artritis y prevención de caídas bilingüe. Del 20 de Junio al 17 de Agosto 2023, 10 semanas, Martes y Jueves 11:30 a 12:30, con Diana Lara. Si esta interesada en participar por favor llame a Diana Lara al teléfono 415-550-2209.
Las clases se darán en el jardín del Centro de la 30, ubicado en 225 30th Street, entre dolores y church, San Francisco, California.
Taichi in Person at 30th Street Senior Center, sequence 1
Taichi for arthritis in person in English, from June 20-August 17, 10 weeks, Tuesdays and Thursday 11:30-12:30, with Diana Lara. Classes will take place in the beautiful garden at 30th Street senior Center, 225 30th street, between Dolores and Church, San Francisco
If you are interested in participating in this series of Tai Chi classes, please fill out the Registration Survey by clicking this link:
https://forms.gle/r2dxXdmJ1sDYbXnh9
Once you complete the registration form, you will only need to come to class, try to arrive 10 minutes before the class start the first day, and be sure to give yourself enough time for parking your car in the street, the center does not have a parking area.
Classes will take place at On Lok 30th Street Senior Center, in the garden or indoors if the weather is too cold or rainy.